Abrasive Blast Rooms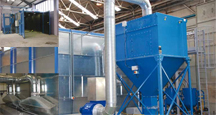 Plastic Media Stripping

Plastic Media Blasting (PMB) is a dry abrasive blasting process, designed to replace chemical paint stripping operations and conventional sand blasting. This process uses soft, angular plastic particles as the blasting medium. The process blasts the plastic media at a much lower pressure (less than 40 psi) than conventional blasting. PMB is well suited for stripping paints on substrates that could be damaged, since the low pressure and relatively soft plastic medium have minimal effect on the surfaces beneath the paint.
After blasting, the media is passed through a sophisticated reclamation system that consists of cyclone centrifuges, air wash, multiple vibrating classifier screen decks, and a magnetic separator. In addition, some instances call for dense particle separators as part of the reclamation system. The denser particles, such as paint chips, are separated from the reusable blast media, and the reusable media is returned to the blast machine.
Below is one of the turnkey projects incorporating PMB that RSI Airblast AFC has built for the Royal Air force.
Abrasive Elevators
Providing market leading standards of visibility with the blast booth for optimum safety and production.

Our booths provide market leading standards for operator visibility and dust extraction. Very often the environment within our booth differs very little in terms of visibility from that of the environment in which you are probably reading this brochure.
Our dust extraction units are not only calculated to provide booth airflow of 50ft per minute but our carefully designed replacement air inlets and outlets ensure that there is no turbulence within the booth maintaining optimum conditions.