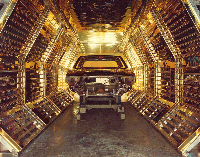 Conventional Drying Ovens deliver heat at designated temperatures thereby accelerating curing cycle times for high solids, waterborne and traditional coating materials. High volume air flow delivers up to 20 air turnovers per minute. Excellent for case goods, millwork, or other applications. Entry and exit vestibules help minimize heat loss from the oven area. Manufactured with 20 gauge aluminized interior and exterior separated by 3" of insulation. Prewired and tested control panel. Available in natural or LP gas, steam, or electric designs.

Halogen Drying Ovens are perfect for metal, plastics, wet paint, powder, or wood. System reaches full operating temperature In one second. Optimal for use with applications utilizing waterborne materials – In some instances below three minute cure time. Short wave infrared penetrates faster and deeper into the finish, curing the material from the inside out. Halogen elements operate in the short wave heat spectrum above 4000 degrees F. Elements convert 95% of electricity into infrared heat as compared to 70% for quartz type elements. Halogen elements average life expectancy is in excess of 6000 Hours. Element housings are constructed of an aluminum parabolic shaped housing with removable protective wire guards. RSI Halogen Drying Ovens will dry the waterborne paint via the heating of the substrate and thus increasing the temperature of the coating. This increase of the coating temperature will increase the rate of evaporation. Infrared heat allow precise temperature control so you can be sure your product will be dried at the right rate to enhance product quality. Adding infrared heat to a processing line can cause major improvements in productivity and product quality.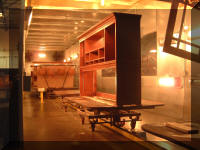 I.R. flash off booths are used to flash off the water based color top coat in only a one (1) minute IR exposure cycle prior to getting the high solids solvent based clear coat applied in the next booth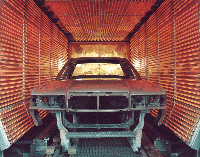 I.R.. ovens maintain "wave length purity" using a variety of components to produce 99% reflectivity.