Our modular style booth enclosure is based on a 10' x 3' galvanized tray interspaced with structural steel to provide rigidity. This concept has proved to be a popular industry-wide choice and by producing in volume, we are able to keep our production costs low and offer much faster lead times than our competitors.
Booths based on this design meet the majority of our customers' requirements but if a custom enclosure is required for a particular project we will design and manufacture made-to-measure panels. Connecting these panels by a diaphragm plate means that the structure will maintain its intended integrity (shown here in blue).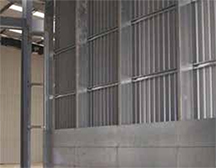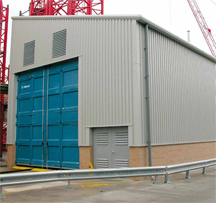 One of our unique features is the ease at which our booths can be installed as a waterproof option. Rather than relying on the flat roof, container-type booth offered by many of our competitors, we prefer to incorporate our modular booth into a portal framed cold rolled steel building. Booths based on mass produced shipping containers have their place in the market as a budgetary solution as they can be converted into a reasonable enclosure for blasting. However, their flat roof and single skin construction inevitably lead to a number of problems ranging from a short working life to ongoing condensation within the work area.
We utilize sophisticated design software, which when used in conjunction with the Zip/Postal Code for the area where the blast room is to be located, allows us to design a cold rolled galvanized portal steel structure that replaces the standard diaphragm system discussed earlier. The software also recognizes national and local building codes. By installing standard blast room panels to the inside of the structure and cladding to the exterior, a cost effective weatherproof blast bay is produced.