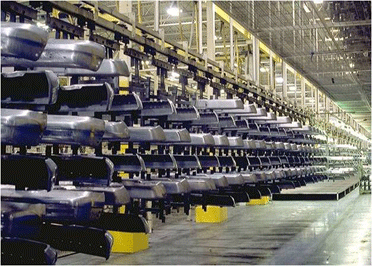 RSI Over-Under Power & Free Conveyor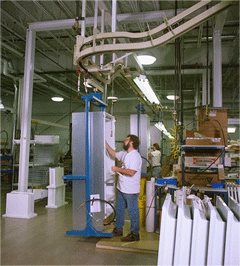 RSI Over-Under conveyors combine power and free flexibility with a heavy duty over and under configuration. Utilizing the time proven effectiveness of Monorail, power conveyors and the durability of two 3" toe-to-toe load channels, RSI Over-Under is the ideal high-capacity solution for transporting and storing work in process.

Manufactured and stocked in modular components. RSI Over-Under is pre-welded at the factory to ensure unparalleled precision and quick turnaround on fast-track projects.
Eleven Standard Monorail Components
RSI Over-Under utilizes the same standard components used in our chain conveyors.

Rugged Design
RSI Over-Under load track consists of two 3", 4.1 pound, toe-to-toe channels for high-wear applications.

Control Systems
RSI Over-Under is available with any of a variety of state-of-the-art control systems, ranging from simple PLC-based controls to complex PC-based routing and tracking systems.

Modular Components
RSI Over-Under components are modular and factory-stocked to minimize lead times for fast-track projects.


Capacities [Back to top]
Single RSI Over-Under carriers support loads up to 1,000 pounds,

Tandem carriers can handle loads up to 2,000 pounds.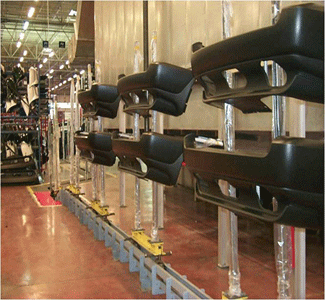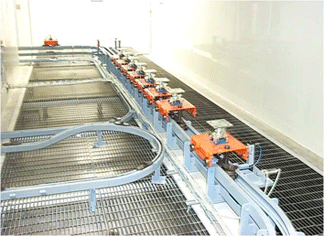 Controls Production Rates
RSI Over-Under optimizes production by ensuring that the right parts arrive at the correct operations in a continuous flow, especially when rates of production differ between operations.
Maintains Quality
RSI Over-Under eliminates needless production re-handling and manual transporting by accomplishing finishing and/or assembly processes with a single material handling system.
Boost
Photos courtesy of RW
s Efficiency
RSI Over-Under maintains a traveling record of work-in-progress, logging information on where product has been and where defects may have occurred.

Creates Usable Space
RSI Over-Under frees up valuable floor space for more value-added operations by organizing product flow and efficiently utilizing available space overhead.

Protects Product and Parts
RSI Over-Under uses an enclosed track that prevents contaminants from falling onto the product. It also protects the chain from dirt, abrasives and solvents, prolonging chain life.