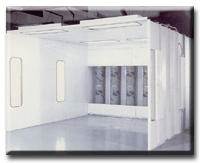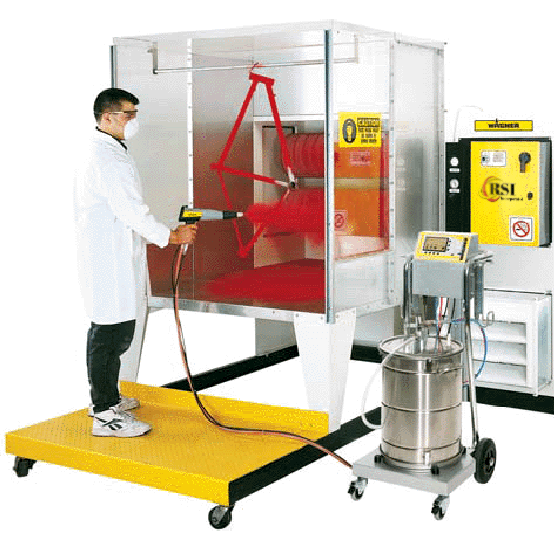 Whether your need is for a continuous or batch system, RSI can assist you every step of the way.

Custom sizes are welcomed for all powder / sanding booths and spray enclosures. These powder / sanding booths can be ordered as an open faced or fully enclosed system, and come in either a galvanized or powder coated finish. Curing Ovens are also available in custom sizes to fit your specific need.

A complete line of filters for powder / sanding booths as well as replacement parts for your application equipment are readily available. New application equipment is only an order away and can be ordered separately or as a complete package. Manual or automatic feed application systems are available.

Because specific applications vary from shop to shop, RSI recommend you talk with one of our sales personnel to find the best option for you.


RSI Sanding Booths provide an excellent method for controlling dust from spreading through the factory. Air is drawn around the product being processed or sanded with a wrapping effect carrying dust and debris away from the face of the operator providing a safer work environment.

The modular construction allows for fast and easy installation. Since it is a recirculating system, there is no exhaust stack, roof opening or exhaust permit required to install the unit.
The RSI Clean Air Sanding Enclosures are designed to reduce the costly expense of replenishing the exhausted air from your facility. These enclosures are specially designed to safely recirculate clean air back into the plant through its cartridge or bag-type filtration system.
The RSI Sanding Booths can be integrated into an existing system or function as a separate unit. The enclosures can be set up in a batch configuration or as a single conveyorized unit. They can be used in a variety of applications, including wood, laminates, metal and fiberglass.
Where budget and production volume are limited, RSI's pocket filter booths and cartridge modules are an ideal fit. The configurable four foot wide powder coating modules are very versatile in their design and application.
These configurable modules can be connected to expand with your production requirements. These modules utilize a two stage filtering process with a purge system to clean the cartridge filters. The primary filters are the cartridge type and the secondary filters are 99% efficient polyester. These modules can also be ordered as portable units that can be moved between departments or production areas. The modules are constructed of 18 gauge steel and have a powder coated finish.

RSI's pocket filter booths feature three-stage filtration. The primary filtration is handled by polyester and the secondary filters are a pocket style also of polyester material. The final filtration, before allowing the air back into the work area, is handled by way of condensed paper media. These pocket filter booths can be ordered in either a galvanized or powder coated finish.