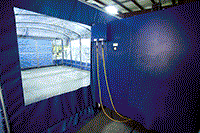 Research & Development

Research & Development is at the core of our technology. Our team is dedicated to understanding and responding to the changing needs of our customers, regulations and the environment, in turn enabling you to meet the needs of your clients.

Our team of engineers works together in a dedicated facility to develop airflow and filtration technology solutions, through continuous improvement of existing products, and innovation.

All systems and products are tested and certified at the highest level by third party agencies and engineers.