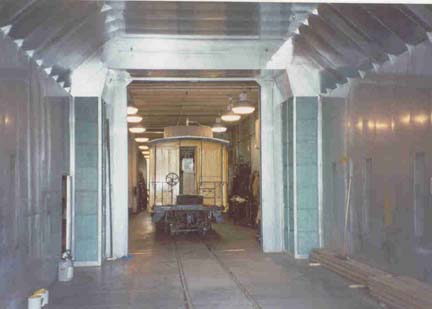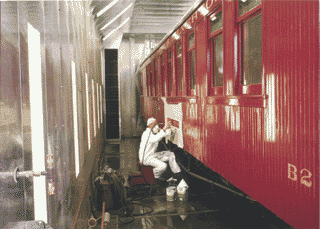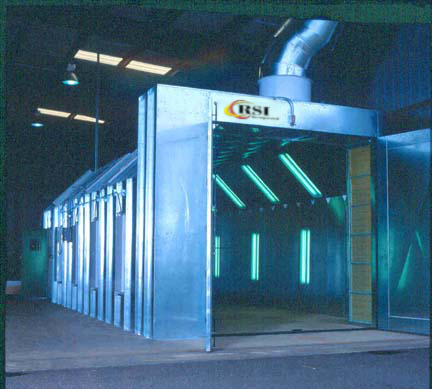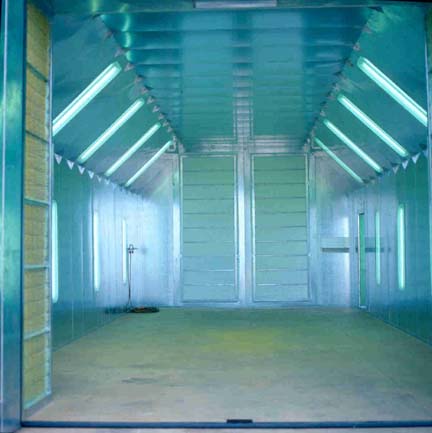 The Custom Aire
AUTO/TRUCK CROSSFLO
spray booth provides a complete automotive and truck painting facility with a choice of three models:
REVERSED AIRE FLO, DRIVE-THRU, and STANDARD AIRE FLO.
The booth is constructed of 18GA galvanized steel and is easily assembled following
RSI
instructions. The exhaust fan is capable of maintaining an air flow rate of 16,400 CFM through the booth.
DIMENSION FOR ALL MODELS:
Inside: 15'0"wide x 11'4"high
Outside: 16'4"wide x 12'0"high
Doors: 10'0"wide x 10'6"high

Reversed Aire Flo Models
CRA2714: 27'0" inside, 27'2" outside, 14 light fixtures
CRA3318: 33'0" inside, 33'2" outside, 18 light fixtures

Standard Aire Flo Models
CSA2814: 26'0" inside, 28'2" outside, 14 light fixtures
CSA3418: 32'0" inside, 34'2" outside, 18 light fixtures

Drive-thru Models
CSD2714: 27'0" inside, 28'2" outside, 14 light fixtures
CSD3318: 33'0" inside, 33'2" outside, 18 light fixtures

FEATURES INCLUDE:

1 - 34" diameter tube-axial fan with variable pitch, non-sparking blades
1 - 5HP open type motor for operation on 208/230/460 VAC, 60Hz, 1 or 3 phase
One set of Custom Tacky air supply filters and one set of exhaust arrestors
Fluorescent light fixtures with clear tempered glass with tubes
3'0" x 7'0" personnel access door
6 feet of exhaust stack, roof jack, and weather cap
Door limit switches and air valve
Painter's work station
Manometer to monitor porosity of arrestors
Installation hardware, caulking, and door gaskets
Blueprints and assembly instructions